LIFTBOY
This cost effective wheelchair lift can be used indoors and outdoors.
You access the lifting platform on a ramps that is manually adjustable - an electric adjustment system is available as an option. Bellows on all four sides of the LIFTBOY protect against getting trapped under the lifting platform.
Available in 3 versions (LIFTBOY 1, LIFTBOY 2, LIFTBOY 5)

Thanks to their light weight, the LIFTBOY I and LIFTBOY II versions can also be implemented as mobile lifting platforms with removable transport wheels and, when used in this way, do not need to be fixed at the installation site. A 24 V motor, which is connected to a power socket by a transformer, raises and lowers the LIFTBOY quietly.
A handrail on the platform is used to secure the upper stop. The longitudinal sides are fitted with a safety edge and a 40 cm high railing.
More equipment features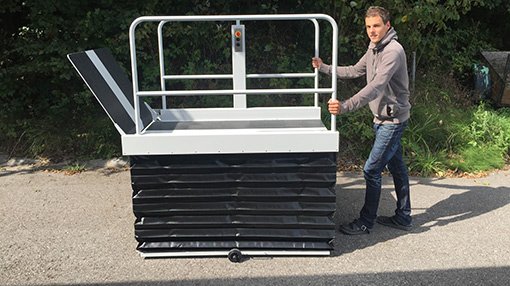 Extremely flexible
Slot-on wheels enable easy transport.
Easy to operate
Simple operation by means of a hand-held controller or free-standing control column.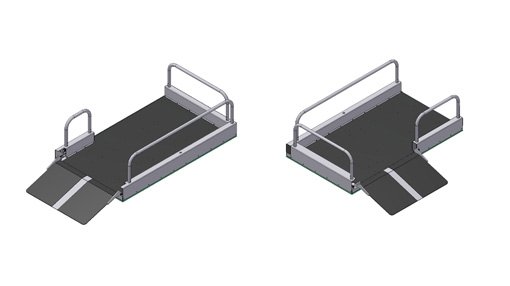 To meet customer requirements
Depending on the on-site situation, the entrance and exit can also be installed on the side.
Technical data
LIFTBOY 1
Maximum vertical travel: 595 mm
Maximum load capacity: 180 kg
Lifting speed: 10 mm/s
Weight of unit: 53 kg
Dimensions (L x W): 810 mm x 1180 mm
LIFTBOY 2
Maximum vertical travel: 830 mm
Maximum load capacity: 300 kg
Lifting speed: 10 mm/s
Weight of unit: 95 kg
Dimensions (L x W): 924 mm x 1505 mm
LIFTBOY 5
Maximum vertical travel: 1300 mm
Maximum load capacity: 300 kg
Lifting speed: 25 mm/s
Weight of unit: 232 kg
Dimensions (L x W): 1100 mm x 1400 mm