For straight stairs (with intermediate landings) indoors or outdoors
Only one person is needed to guide the tracks of the stairclimber on straight stairs in complete safety.
A hook-on Junior platform is available for children's wheelchairs. In addition, using a combination of support shoes and the multifunction clamp, it is also possible to use wheelchairs with foldable backrests, removable handles, braked wheelchairs and wheelchairs with small wheels.
Versatile use
The STANDARD tracked stairclimber can lift 150 kg (SA-S) or 160 kg (SA-3) over several floors (max. 200 m upwards) and its robust construction allows it to be used on indoor and outdoor stairs.
Easy to transport
Thanks to its removable upper section, the tracked stairclimber can be stored compactly and transported easily.
Max. gradient: 35 °
Easy to operate
Lock
Simply move the tracked stairclimber under the wheelchair and lock the wheelchair in place.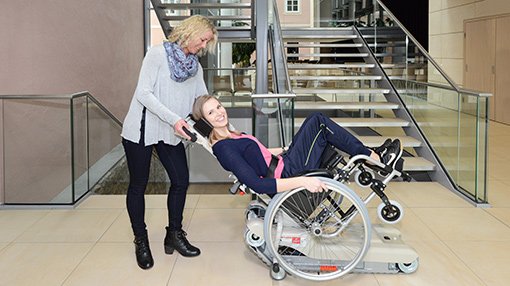 Tilt
Now the wheelchair can be tilted.
Move
And you are ready to go up and down the stairs.
Advantages & highlights
Can be used on various stairs without any problems - indoors and outdoors
Reinforced crawler tracks with moulded-in steel cables grip the steps securely
Battery-powered
Minimum space requirements
Low-maintenance
Fits all standard wheelchairs
Proven technology
Safety belt
Can only be operated by authorised people thanks to keyswitch
Technical data
Dimensions (L x W x H):
1473 x 635 x 930 mm
Empty weight:
54 kg
Payload:
150 kg model SA-S
160 kg model SA-3
Speed:
approx. 7 m/min.
Maximum gradient:
35°
Battery:
2 x 6 V / 20 Ah
Brakes:
electro-magnetic