FOR ACTIVE WHEELCHAIR USERS
The STAIRMAX is a unique and cost-effective mobile stairclimber for active wheelchair users that enables you to climb straight flights of stairs with a landing in your own wheelchair without assistance. The STAIRMAX can be used both indoors and outdoors and can be easily stowed away in the car with the help of a drive-on ramp.
UP AND DOWN STAIRS WITHOUT HELP
Simply ride over the tracked stairclimber on your adapted wheelchair to benefit from the full range of functions. Turning on the landing is easy using the wheelchair's hand wheels. You do not need to modify the staircase in any way - so no permits are required.

Requirements:
The user must be able to use their arms and fingers well
In-depth training
The stairs must have a strong handrail.
Easy to operate
Ride on
Simply ride the wheelchair over the STAIRMAX.
Tilt
Bring the wheelchair into the tilted position.
Move
Move up and down straight flights of stairs without any problems - indoors and outdoors.
Always with you
Stowed easily in the car by means of an optional ramp.
Space-saving turning
Turning on the landing is easy and requires little space.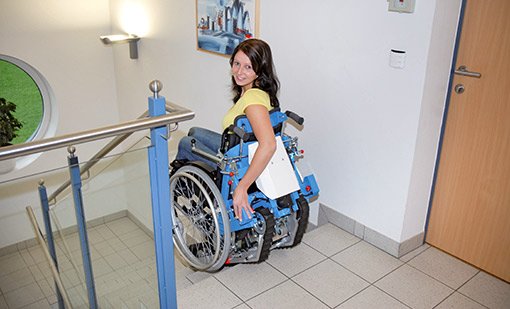 Easy to operate
The ergonomically arranged controls make it easy to use.
Advantages & highlights
Can be used on various stairs without any problems - indoors and outdoors
Reinforced crawler tracks with moulded-in steel cables grip the steps securely
Battery-powered
Minimum space requirements
Low noise operation
Can be adapted to fit all standard (active) wheelchairs
Proven technology
Can only be operated by authorised people thanks to keyswitch
Technical data
Dimensions (L x W):
1200 x 570 mm
Empty weight:
60 kg
Payload:
110 kg

Speed:
ca. 7 m/min.
Maximum gradient:
35°
Battery:
2 x 6 V / 20 Ah
Brakes:
electro-magnetic