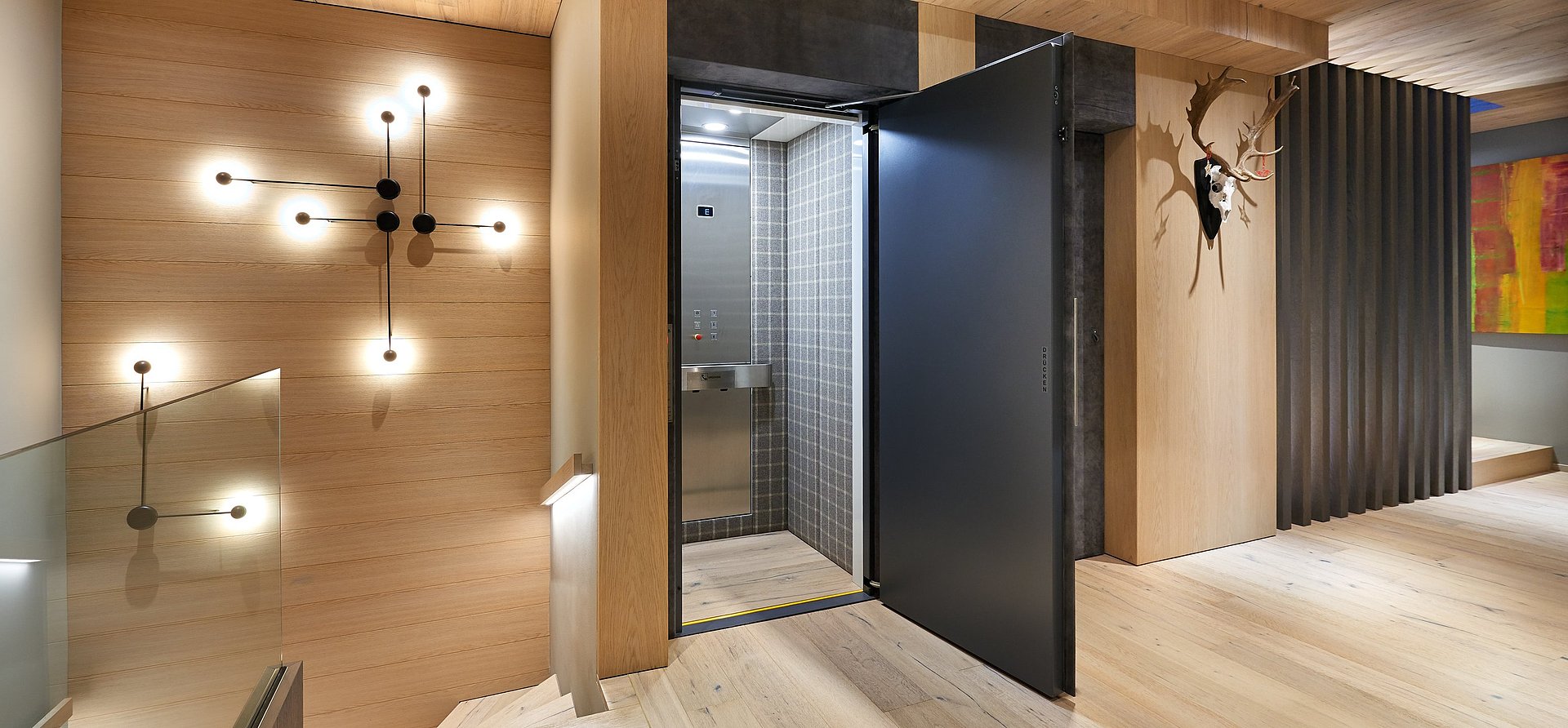 A lift for your home? Now the number one trend.
Inspired by the idea of enjoying the advantages of having a passenger lift in your own home, we have developed a vertical lift that meets the highest expectations in terms of functionality and design.
Our lifts are equipped with the latest technology to ensure a particularly high level of living comfort and open up barrier-free living spaces to offer freedom on all levels - especially for older generations - and all this at the best price-performance ratio.
PRODUCT HIGHLIGHTS
A quality product made in Austria
The WEIGL VITMAX® home lift is manufactured entirely in Austria.
Unique & flexible
Because we manufacture our lifts ourselves, we can respond flexibly to your special requirements, however unique these may be.
Elegant & attractive
The modern design of our lifts is elegant and attractive, with a lift well that blends in and a cabin designed in glass and metal.
Innovative engineering
The VITMAX® does not require a lift motor room or a pit and yet provides a completely flat transition between the lift and floor on each level. Thanks to their innovative design, these lifts can nearly always be installed in any existing building.
Intuitive control system
Smart, illuminated control panel and handrail with integrated emergency telephone.
Comfortable & extremely quiet
For your comfort, an extremely quiet frequency-controlled drive ensures that the journey begins and ends smoothly.
Technical data
General
VITMAX® - innovative lift technology that does not require a lift motor room or lift well pit and yet provides a completely flat transition between the lift and floor on each level.
The overall cost of a VITMAX® passenger lift is much lower than those of a conventional lift system, both in terms of price and running costs.
Low space requirement (approx. 1.5 m²)
Reduced annual inspection costs
Energy-saving, low-noise drive system
All safety-related components are TÜV-approved for lifts.
Technical data
Nominal load:
385 kg
Travel speed:
0.15 m/sec.
Platform/cabin size:
1.1 x 1.4 m (standard)
Travel height:
max. 11 m
Power supply:
230 / 400 V
Drive system:
two roller chains with special energy-saving drive
Safety systems
Precision safety brake
Travel speed monitoring device which switches off the system and triggers the safety brake if the normal travel speed is exceeded
Automatic emergency operation (this allows you to move the VITMAX® to the next floor in the event of a power failure, so that you can get off safely)
Mechanical and electrical safety door interlock and door contact
VITMAX® outdoor lifts
The VITMAX® home lift - perfect for outdoors too.
If there is no space indoors to install a lift, the VITMAX® home lift can also be planned and installed outdoors as an extension.

Read more ...
It pays to choose the right partner when choosing a provider.
For decades the Austrian brand WEIGL has stood as a full-solution supplier for lift and mobility systems that always meet the latest standards of quality, technology and design. Today we are Austria's largest lift manufacturer and the market leader for stairlifts and wheelchair lifts.