ULTIMATE ERGO monotube model
Elegant design combined with modern technology - the ULTIMATE ERGO by WEIGL.
The ULTIMATE ERGO is the perfect stairlift for difficult installation situations on-site with narrow, steep and curved stairs. Ingenious design and modern technology allow a vertical start from the first step and a smooth ride with loads up to 160 kg even on steep stairs.
Elegance meets technology
On Wednesday, I will get my lift installed by the Weigl company. I chose the company because they made me a good offer very quickly and then we agreed quickly. Before I signed a contract, they sent me very detailed plans. I would recommend the company to others.
SMART FROM THE VERY FIRST STEP
The ULTIMATE ERGO impresses with modern technology and ingenious details. The "SMART START" from the first step on - the reliable solution to avoid expensive and annoying folding rails at passages or doors is one of them.
Advantages & highlights
Ergonomic design
Modern seat with adjustable arm and backrest, the XL version carries up to 160 kg
Unique
Manual swivel seat; the optional electric swivel seat can be turned in two directions (also in the direction of travel)
The ultimate
The robust drive unit offers the most comfortable ride; curve radii from 210 mm and gradients up to 75° are possible
Convenient
BOperated with either a joystick or rocker switch, mounted on the left or right armrest
Modern
Seat belt with automatic retraction, footrest with safety sensors, digital display with real-time diagnostics
More equipment features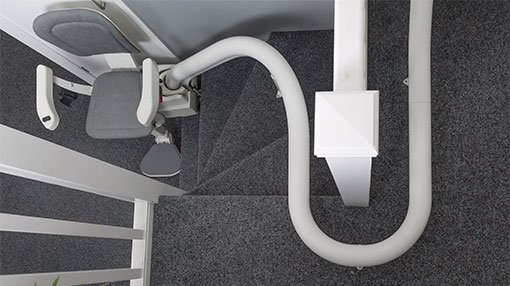 Modern Design
Attractive rail shape even on steep and narrow stairs.
Comfortable and safe
A swivel seat at the end of the travel rail lets you get on and off safely.
Flexible
Joystick or rocker switch on the left or right armrest, the choice is yours
User-friendly
A remote control on each floor lets you call or send the lift from wherever you are.
Ingenious
Vertical start from the first step
Unique
The only chair stairlift where you can choose the direction of travel
Colours and seat covers
The upholstery is made of high-quality material and is easy to clean - it still looks like new even after many years of service.