Ingenious design combined with solid technology and many equipment options make the SIENA the most popular stairlift in our wide range of products.

The SIENA chair stairlift is characterised by its extremely ergonomic yet strong geometry. At the same time, a proven drive system guarantees a smooth, jolt-free ride. The model with double rails for curved stairs is features especially strong construction and exceptional load capacity.
For straight stairs

SIENA 600

All WEIGL SIENA 600 models are designed for straight flights of stairs and are available from stock immediately. They are easy to operate and excellent value for money.

The SIENA 600 is characterised by its extremely ergonomic yet strong geometry, so it can easily transport people or loads up to a total weight of 160 kg. This model also offers you the choice of two seat widths: Standard or XL.

Fold-up rail.

If there is not much space in front of the first step, the travel rail can be designed to fold up.
For stairs with curves and corners

SIENA 260

All WEIGL SIENA 260 models have been specially designed for use on stairs with curves and corners.

The travel rail is individually adapted to your stairs. Our advisor will explain to you in detail the best path for the travel rail.

Minimum space requirements.

By simply folding up the armrests, seat and footrest, the stairlift takes up hardly any space even in the narrowest stairwell. The staircase therefore remains free for others to use.
Advantages & highlights
Ergonomic design
high and wide backrest for comfort (choice of 2 seat widths)
Seat surface
angled slightly upwards for maximum comfort
Minimum space requirement
armrests, seat and footrest fold away easily
For your safety
Choose from 4 versions of seat belt
Swivel seat
manual (electric is optional)
Safety sensors
these ensure that your stairlift stops immediately if it meets an obstacle.
More equipment features
Ergonomic design
A high and wide backrest with the seat angled slightly upward ensure a comfortable ride.
Comfortable and safe
A swivel seat at the end of the travel rail lets you get on and off safely.
User-friendly
The seat belt is easy to secure
Convenient remote control
Simply call or send the stairlift from any stopping point by remote control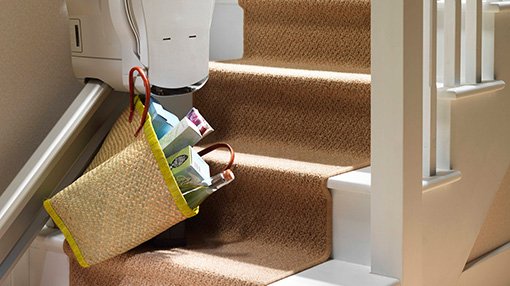 Maximum safety
Safety sensors guarantee the lift stops immediately if it meets an obstacle.
Ingenious control system
Operate the stairlift by simply using an ergonomic control lever
Colours and seat covers
The upholstery is made of high-quality material and is easy to clean - it still looks like new even after many years of service.